Firestop for electrical penetrations
Our solutions for cable penetrations help keep your facilities safer and cost-efficient
Most buildings and facilities are in a constant state of change, especially when it comes to cables. How do you remain flexible and adapt to constantly changing infrastructure demands without compromising reliability and protection against fire and smoke? How do you help ensure airflow control and energy efficiency in your facility?
In mission-critical facilities such as hospitals and data centers, easy adaptability is key. We offer a complete range of internationally tested and approved firestopping products for evolving electrical penetrations such as telecom, Datacom and various other low voltage cables.
FUTURE-PROOF INFRASTRUCTURE FOR HIGH CABLE TRAFFIC
Changes in technology and equipment lead to complex installations and frequent re-penetrations. All buildings have different areas of cable traffic: low-voltage and telecom installations need to be updated most often, whereas power cables will mostly only be replaced during renovations.
For building owners and Facility Managers, keeping all IT infrastructure up-to-date and downtime-free can be a constant nuisance.  Regular moves, adds and changes (MACs) in buildings in areas such as server- and operation rooms require cable penetrations to be continually reopened, often leading to the firestopping material not being properly replaced.
MORE AIRFLOW CONTROL AND COST EFFICIENCY WITH PRE-FORMED FIRESTOP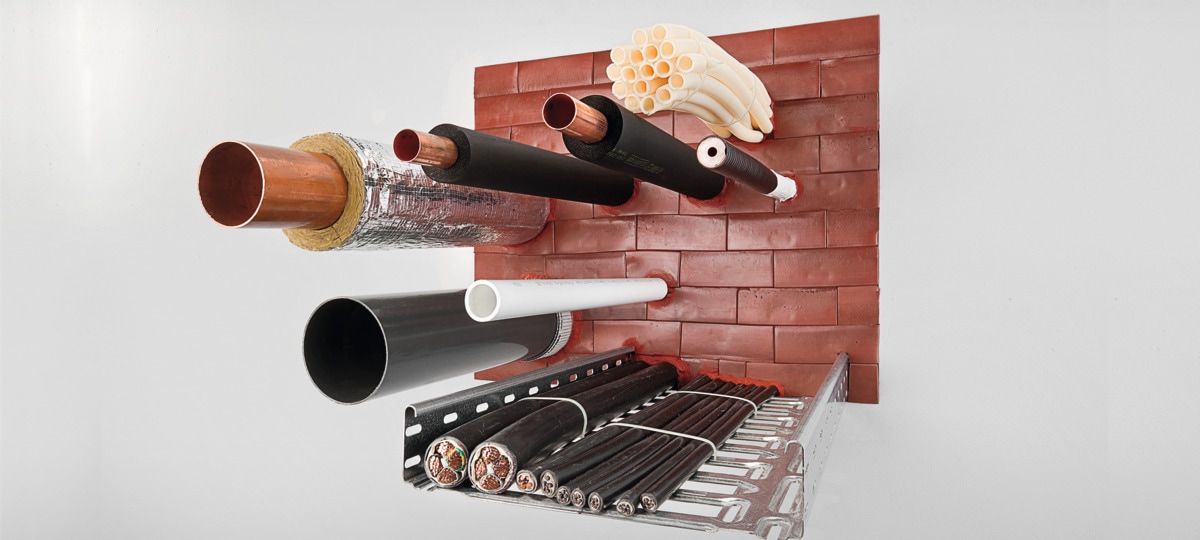 By specifying preformed firestop elements, you not only make the building safer, but also help improve its energy efficiency while reducing operating costs. Airflow management decreases energy consumption. Routine cabling updates may compromise compartmentation when firestopping material is not properly replaced.
Choosing the right products helps ensure proper installation and inspection while ensuring business continuity. In addition you limit the risk of fibers and dust.
Our pathway device CFS-BL firestop block have been tested for leakage to internationally recognized standards, such as UL 1479 and EN 1026. This extensive third-party testing confirmed their superior airflow control at a variety of cable fill ratios and a wide range of operating pressures.

These ready-to-use, virtually fiber-free firestopping devices help enable effortless updates and maintenance without specialized personnel. Whether you run raw or pre-terminated cables, our products help you to mitigate the risks associated with frequent cabling changes. This increases productivity and profitability by reducing your downstream- and operating costs while meeting the highest safety standards.
Fire protection
All you need to know about controlling damage during a fire