Services
Personalized services that ease your work
LEADING THE INDUSTRY WITH OUR TOOL SERVICE TIME PROMISE
For Metro Manila customers
FOR PROVINCIAL CUSTOMERS
When you buy a Hilti tool, you get more than just a tool. You also get an ultrafast tool repair service. At Hilti, we are committed to our tool repair time promise that is to collect, repair and return your Hilti tool within 3 working days (*else, repair will be free of charge) for Metro Manila customers and persistent 7 working days tool repair turnaround time for Provincial customers.
To provide the best customer repair experience, we will collect and return the repaired Hilti tool at your jobsite for your convenience. For Provincial customers, we also provide a list of Pick-up and Delivery points that are well within your reach. Just contact us either though phone or Hilti Online and we'll take care of it from there. Every Hilti tool is registered, so there's no proof of purchase required. 
Ultrafast. Pleasantly predictable. Incredibly simple.
HOW MUCH WILL MY TOOL REPAIR COST?
WITHIN THE NO COST WARRANTY PERIOD

Up to 2 years wear & tear coverage

We will repair your tool completely free of charge for up to 2 years from the date of purchase. This includes damage resulting from normal wear and tear. Within this no cost period, you'll be free of charge for
Spare parts
Labor
Pick-up
and Delivery

Battery capacity guarantee

Battery will be replaced for free if the capacity is below working level within warranty (no cost period) to ensure your maximum productivity.
Beyond the Warranty (No Cost) period
After the wear & tear period, the charged/paid repair costs are capped at the repair cost limit (RCL) value that is specific for a certain tool for the remaining life of the tool. 
Repair Cost Limit (RCL)
No shocks when you receive your bill

Repair costs are capped after the no cost period

Repair costs will only be at RCL (maximum value for all repairs on specific tool type)
Repair Cost Limit is specific and fixed to a certain tool type
Repair Cost Limit at an average of 30% of latest tool list price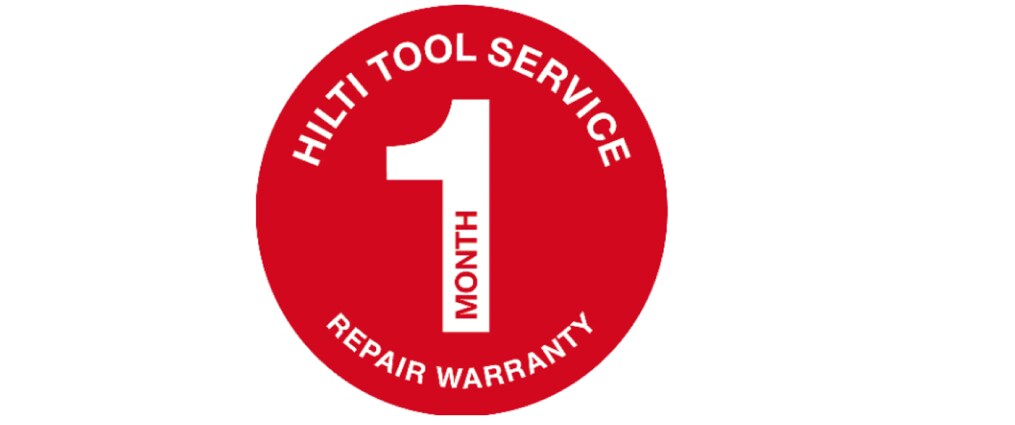 1 Month Repair Quality Guarantee
Our 1 month repair quality guarantee
If your tool breaks down within 30 days from a charged/paid repair, we will repair it again free of charge. This also covers wear and tear. On these occassions, you'll be free of charge for
Spare parts
Labor
Pick-up
and Delivery
Full Functional Repair
Partial repair (partial replacement of parts) will easily lead to tool underperformance and to a significant increase in both frequency and number of tool repairs. At Hilti, we examine all the parts to restore tool optimal performance.

RELAUNCH OF 3 OR FREE IN METRO MANILA
The COVID-19 and the community quarantine protocol have resulted to a temporary halt of the tool service time promise. Due to our exemplary Filipino traits such as adaptability and resilience, we have survived the challenging times of the pandemic. As we continuously progress through the road of holistic recovery, we are pleased to announce the *relaunch of 3 or free Hilti tool service time promise in Metro Manila beginning February 01, 2023. This outstanding program will be the key differentiator that will not only provide Hilti the competitive advantage but also the best customer experience as an effect of an ultrafast tool repair turnaround time.
*Possible Claim is subject to Pre-approval Service Agreement 
HOW LONG WILL MY TOOL REPAIR TAKE?

Did you know? In average, more than 60% of tool repair total turnaround time is spent solely on waiting for confirmation of repair quotation!
Let's get started right away - repair cost pre-approvals
Ultrafast, Accurate and Reliable
A repair quote can triple the total tool repair turnaround time.
With your consent, we can start repairing your tool as soon as we receive it without the significant delay caused repair quotations. By pre-approving charged repairs up to the tool-specific Repair Cost Limit, you can eliminate the delay of quotation process – meaning no unwanted delays in repair work and hence, less downtime for you. With your consent, we will be able to provide you the fastest tool repair turnaround time. 
*Conditions apply. Refer to T&Cs for details.
LAUNCH OF REPAIR NO-APPROVAL VALUE FROM 15 JULY 2022
Minimum Quote Value (MQV) at PHP 3500
Reduce repair lead time by up to 7 days
To help you achieve less downtime and hence, maximum productivity, we have launched the tool repair policy of "Minimum Quote Value (MQV)".
What is changing?
With this new policy, Hilti will proceed with the repair without prior notice and repair quotation for charged/paid repairs with repair cost less than or equal to PHP 3500 (excluding VAT and delivery fee). A quotation will be provided for customer approval if the repair cost is greater than PHP 3500 (excluding VAT and delivery fee).
What is not changing?
The Payment term and mode of payment will remain the same. You can keep the payment ready as per the existing terms.
Preapprovals
If you intend to modify this Repair No-approval Value (also known as Minimum Quote Value or MQV), you can provide a higher value by submitting a new preapproval form. 
LAUNCH OF TOOL DROP-OFF/PICK-UP AT TSC FROM 01 NOV 2022
Eliminate the hassle of allocating time and attention waiting for pick-up and/or delivery of tools by Hilti accredited logistics partner.
To ensure that we provide you the best tool service experience, we have opened our Tool Service Center (TSC) for Customer tool drop-off/pick-up at TSC to provide more convenience and flexibility to you.
What is changing?
With this initiative, Hilti Philippines Tool Service Center located in Marikina will be allowing both customer tool drop-off (10:00 AM – 12:00 PM) and pick-up (03:00 PM – 05:00 PM) within the specified time-period only. Rules apply. Refer to your Account Manager for details.
What is not changing?
Hilti Tool Repair process and Tool Diagnosis charges when applicable. The payment term and mode of payment will remain the same. You can keep the payment ready as per the existing terms.