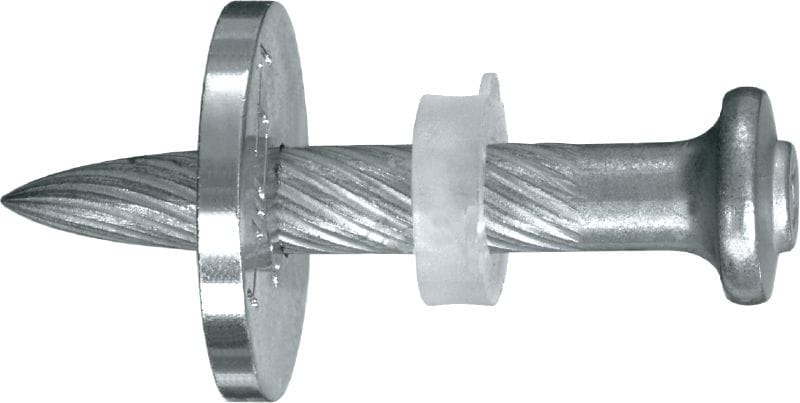 Move cursor over image to zoom.
Click on image to zoom.
X-U P8 S Steel/concrete nails with washer
New product
Item #r3650
Ultimate-performance single nail with steel washer for fastening to concrete and steel using powder-actuated tools
Minimum thickness of base material (concrete): 80 mm
Corrosion protection: Galvanised zinc coated <20 µm
Environmental conditions: Dry indoor
More technical data
Features & Applications
Features
Galvanised nails for fastenings on concrete or steel
Higher application limits, higher ultimate tensile loads
With preassembled washer providing increased pull-over values
Fully-knurled point for better performance on high-strength steel and hard concrete
Applications
Fastening to steel support frames S 355 (St 52) 6-12 mm
Fastening steel sheets to steel support frames or substructures S 355 (St 52) 6-8 mm
Fastening wood to S 355 (St 52) steel substructures with a thickness of 6 mm
Fastening timber or steel brackets to steel or concrete where high pull-over strength is required
Fastening wood to concrete (even high-strength concrete) or steel
For approval or certificate information, please see individual items.