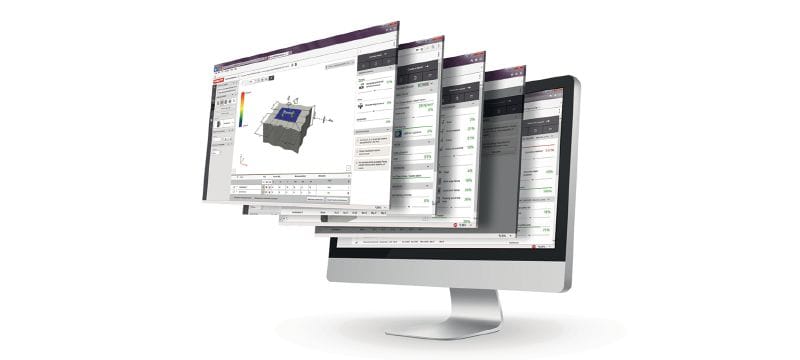 Move cursor over image to zoom.
Click on image to zoom.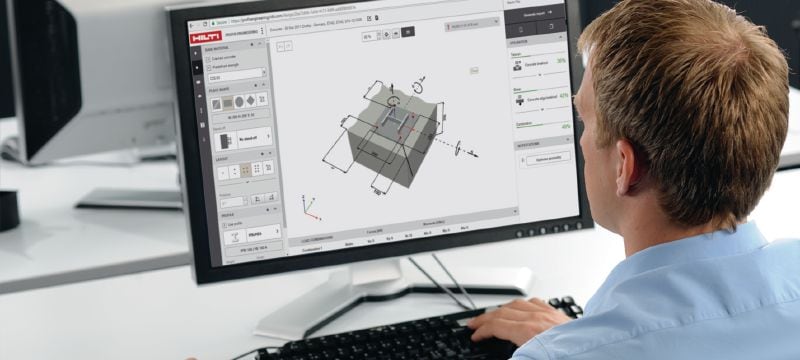 Move cursor over image to zoom.
Click on image to zoom.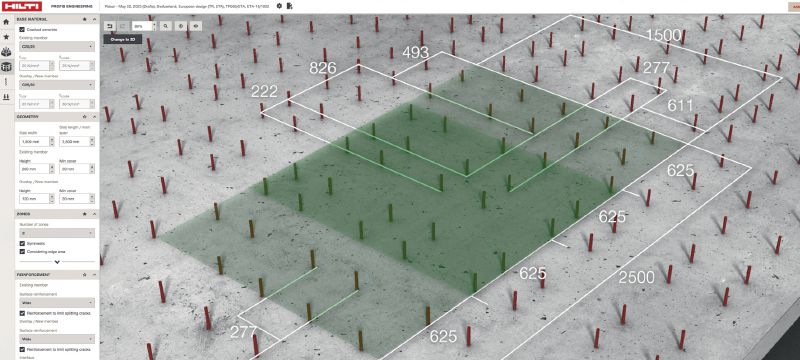 Move cursor over image to zoom.
Click on image to zoom.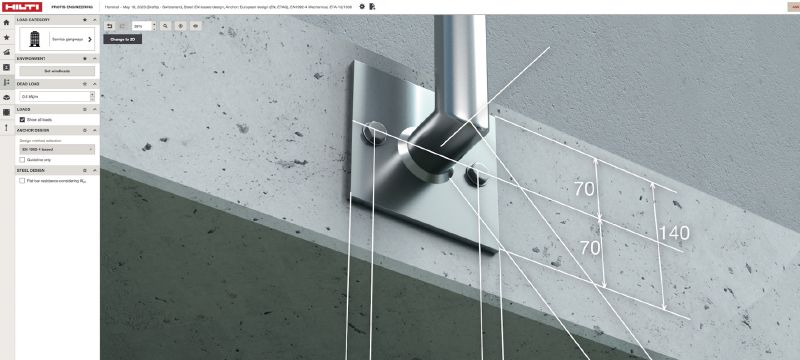 Move cursor over image to zoom.
Click on image to zoom.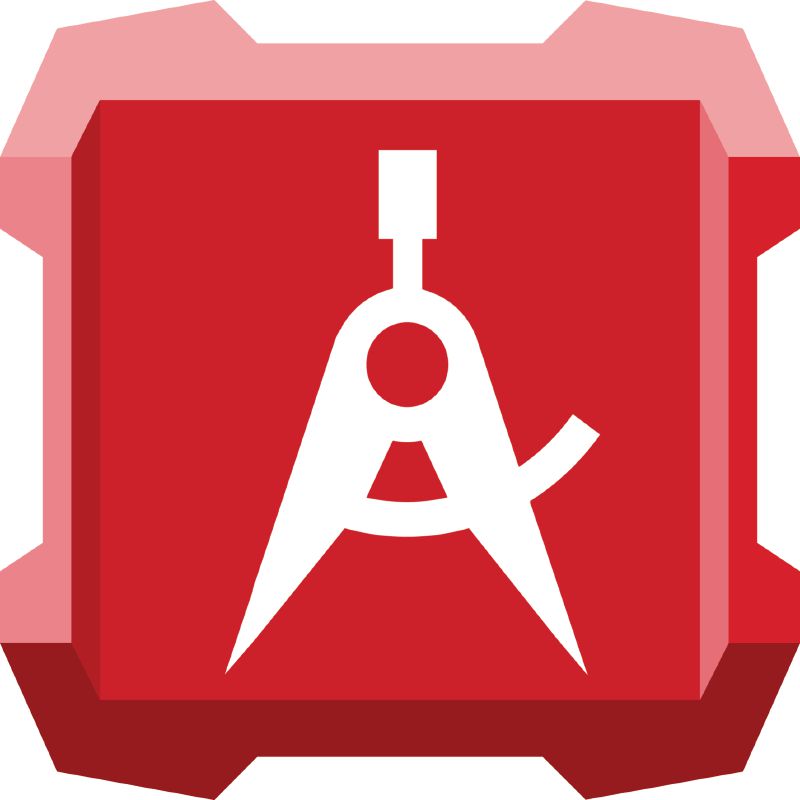 Move cursor over image to zoom.
Click on image to zoom.
PROFIS Engineering Suite structural design software
New product
Item #r6502279
Structural engineering anchor design software with codes and approvals, Component Based Finite Element Method calculations, and a variety of fastening methods
Capabilities: Anchoring steel to concrete, Anchoring steel to masonry, Concrete overlay, Concrete over metal deck, Handrail fastening, Post-installed rebar
Codes and approvals: Supports many country-specific design methods, and can generate detailed design reports to easily verify compliance.
Training and support: No matter if you are a newcomer or an expert, we offer technical training and demonstrations (face-to-face and online) to guarantee you can exploit the full potential of the software.
More technical data
Highlights
Complete solution for designing structural connections
Easily design, calculate and analyze multiple connection types including anchoring to concrete, masonry, post-installed rebar, concrete overlay, and handrail designs
Stay up to date with the latest international codes and approvals automatically
Save hours of research time as the software automatically updates to the latest versions of international codes and approvals, including: ACI, CSA, Eurocode, Australian Standards, and many others
Fixture plate rigidity analysis
Free version available for everyday structural connections
PROFIS Engineering Standard gives you free access to all the application modules and allows you to generate detailed, step-by-step calculation and design reports (including baseplate rigidity check) for post-installed or cast-in-place anchors
Import from structural analysis software and export to BIM and CAD
With PROFIS Engineering Premium, import loads from excel or directly from other structural analysis software programs (eg. RISA Connection, RAM Structural System, STAAD.PRO, SAP2000, ETABS, Robot, Revit, and Dlubal RFEM and RSTAB) and export your final designs in 2D and 3D to integrate them into your standard BIM and CAD programs
Improve productivity with advanced anchor and baseplate design features
PROFIS ENGINEERING
Taking your Anchoring to Concrete design to the next level
PROFIS Engineering is the latest transformation of our industry leading software, PROFIS Anchor. PROFIS software has always made designing the most complex and challenging structural connections easy. Now, with the addition of base plate analysis and compatibility with popular 3D modelling software anchor design has never been easier.
Benefits of PROFIS ENGINEERING at a glance
Reduce design time
Perform anchor and baseplate calculations in a single step to reduce overall design time.
Improve accuracy
Ensure your specifications are right the first time. Automatic load transfers, simultaneous multiple load combination processing, and BIM / CAD model generation all help to reduce errors and rework.
Increase efficiency
Integrated data sharing in a single platform grants every stakeholder immediate access to the most up-to-date design files and reports. This helps to improve transparency, remove communication logjams and increase efficiency.
Game Changing Features
Comprehensive calculating
Anchoring in concrete and masonry capabilities make it easy to complete your entire baseplate connection in one simple software.
Base Plate Analysis
Analyze your base plate using local standard design guide or a finite element methodology to determine if your base plate is rigid.

Cloud-based Platform
An integrated cloud-based platform keeps stakeholders connected and data up to date. It also means you can access your designs from any device in any location, even on the go.
Autocad and Tekla interface
Easy transfer of data into Autocad or Tekla software to enable users to create and manage 3D structural models in concrete or steel without complications or re-work.
Flexible reporting
Customisable reporting allows you to produce accurate, comprehensive, and personalised reports for your unique projects.
Expert support
Integrated step-by-step tutorials and Hilti engineering support mean you never have to address complex design challenges alone.
Select the Right Profis Engineering License for you
PROFIS Engineering Trial Version - FREE
Built on the capabilities of its predecessor - PROFIS Anchor
Available 30-day trial version FREE of charge
Stand-alone licence - best for individuals
1 user
Only one named user access at a time per license
PHP 14,500 / year
Buy Now >
Floating licence - best for medium-sized companies
Up to 29 users
Only one user access at a time per license
PHP 18,500 / year
Buy Now >
What license fits your needs?
Try our premium version free of charge for 30 days. After the trial expires, you will have the choice to buy Profis Engineering Premium or switch to the free version.
Standard

Standard License

Gain access to all of the Structural Connection Applications.

Free after 30-Day Trial of Premium

Trial

30-Day Trial

Experience all of the Premium features for 30 days.

Free for 30 days

Premium

Individual License

Experience all of the Premium features assigned to one user.

Premium

Floating License

Experience all of the premium features shared between an unlimited number of users. For each license purchased, one user at a time can access the premium features.
Collaboration
Structural Applications and Design Codes
Base Plate Design Type
3rd Party Integrations and productivity
Standard license for every user

License shared by a user group

Project Sharing and collaboration

ACI 318 and multiple local codes and annexes

Post-Installed Anchors

Cast-in Anchors

Post-installed Rebars

Overlay

Advanced Baseplate Design with CBFEM

Baseplate Rigidity Check with CBFEM

Rigid Anchor Load Distribution

AISC Design Guide 1

RISA Connection

RAM

Dlubal

STAAD.Pro

Robot

ETABS

SAP 2000

Custom Template Creation

Favourite Option

Image Adding to Reports