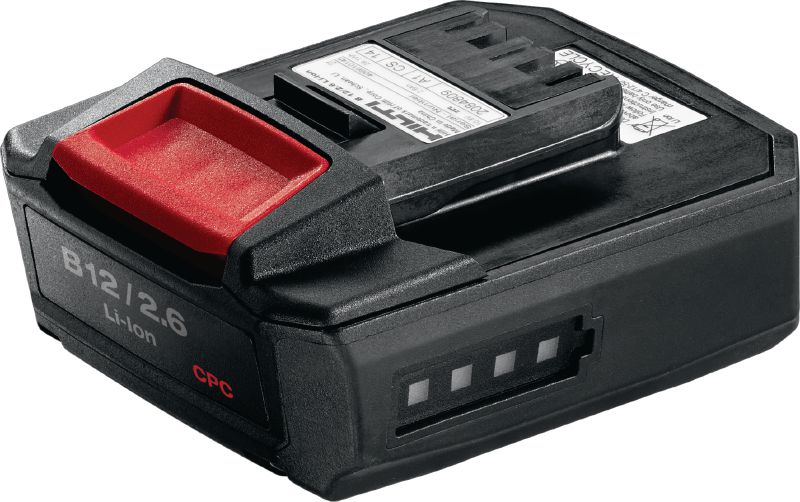 Move cursor over image to zoom.
Click on image to zoom.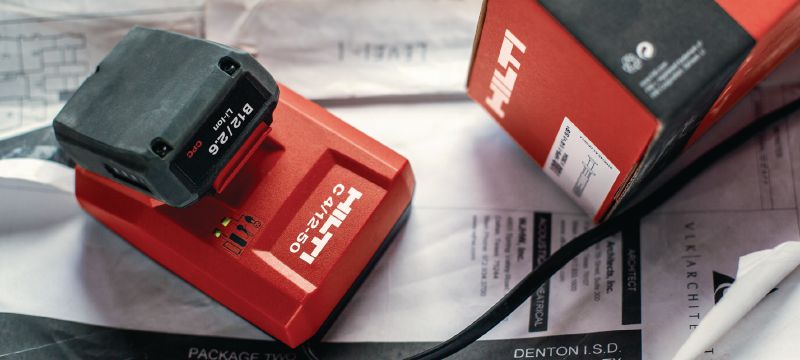 Move cursor over image to zoom.
Click on image to zoom.
B12 2.6 12V Battery
New product
Item #r2907509
Compact 12V 2.6 Ah Li-ion battery
Charging time with C4/36-350 battery charger: 35 min
Weight: 0.24 kg
Dimensions (LxWxH): 92 x 71 x 41 mm
More technical data
Features & Applications
Features
Light and compact Li-ion power tool battery for maximum working convenience
Includes Hilti Cordless Power Care (CPC) technology – on-board processors monitor each battery cell to deliver more reliable, consistent and longer-lasting power on your jobsites
Accurate charge level display for higher on-site productivity
Protected against overheating, overloading and deep discharge
Rubberised, glass-fibre reinforced casing – up to four times more resistant to damage from dropping and twice as resistant to extreme temperatures than standard ABS plastic
Applications
For use with Hilti 12V cordless tools
Compact and powerful 12v batteries
Meeting the need for compact power, the B12 2.6 tool battery helps your work flow
Using the latest Li-ion cell technology and providing robust protection for tough conditions, our range of 12 volt tool batteries and chargers deliver power and runtime in a compact package to help you work in tight spaces or overhead, where size and weight are critical.
WITH OUR B12 BATTERY, SIZE REALLY DOESN'T MATTER
When it's compactness and accessibility to small spaces you need, our 12V power tool battery match the demands of different applications. 
With Hilti you have the choice of battery that's fit for every application giving you Power. Always. Everywhere.
Choose the battery that's right for you
Compact B12 2.6
For a broad range of applications, from measuring to screw fastening and light-duty drilling, the compact B12 2.6 battery offers the ideal balance between weight and size.
Buy the B12 2.6 now
Big on performance small on size
Hilti 12 volt Li-ion tool batteries give you power to perform
There are jobs where you can't compromise on weight or size, and our range of 12 volt tool batteries provide you with the perfect balance of power and runtime to work with a broad range of materials and applications.
Packaged in a glass-fiber reinforced housing which is more resistant to damage or temperature changes than standard ABS, you can be assured of productivity and reliability for your cordless tools.
No space, no problem
B12 2.6 tool batteries provide a compact solution when space is limited
The advantages of the B12 2.6 battery is not just its performance, but also the portability and compactness to all of your cordless tools.
So no matter if you need to work in tight spaces or have to move quickly between different jobs, B12 2.6 batteries provide all the benefits of Hilti's robust design that help to protect your battery from the rigors of the jobsite.
Less repairs, more performance. Cordless Power Care (CPC)
Cordless platform
With 3 voltage platforms and a choice of capacity, our batteries power a full range of tools from compact screw fasteners to heavy-duty breakers.
Find out more about cordless platform
Power and reliability
Reliability is a critical success factor and you need power tool batteries you can trust to work in extreme conditions, whether it be high heat or the freezing cold.
Find out more about power and reliability
Care and protect
With a glass-fiber outer casing, sealed electronics and individual cell protection, Hilti Li-ion tool batteries help to provide the resilience for use on the jobsite.
 
Find out more about care and protect